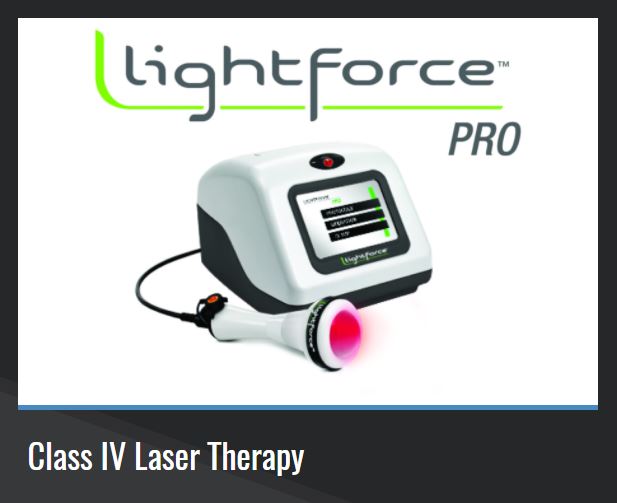 LIGHT FORCE PRO.
The LightForce™ EX therapy laser by LiteCure™ Medical is designed to help you achieve more consistent positive outcomes for your most difficult clinical conditions. The LightForce EX™ therapy laser is the perfect combination of power, intelligence and versatility. Featuring up to 15W of therapeutic power, the LightForce EX therapy laser facilitates fast and efficient treatments deep in targeted tissues. Experience the soothing warmth and powerful benefits of the LightForce EX therapy laser. LiteCure's superior platinum warranty keeps your investment safe for 24 months. The comprehensive warranty includes coverage for the therapy unit, hand pieces, and fiber.
Influence™ Technology
Delivery of the optimal therapeutic dose to the damaged tissue is the key to effective results. Muscle tone, size and pigmentation significantly affect the penetration of all therapy lasers. Influence™ technology provides patient specific protocols based on individual characteristics. Personalize your treatments with Influence™ and achieve consistent results.
WHAT TO EXPECT.
Laser therapy is a non-invasive technique to help reduce pain and inflammation. Laser therapy can be safely used as an adjunct or replacement for pharmaceutical drugs. This pain relief treatment is FDA cleared and enables patients to have an alternative to drugs and surgery.
Laser therapy treatments last between 5 and 10 minutes depending on the condition being treated. Laser therapy treatments must be administered directly to skin, as laser light cannot penetrate through layers of clothing. You will feel a soothing warmth as the therapy is administered.
Depending on the condition being treated your therapy may be administer through either a contact or non-contact hand piece. The contact hand piece is designed to allow the practitioner to physically manipulate the tissue while administering the treatment, resulting in a laser-massage treatment. This allows for light to penetrate deeper into tissues than the non-contact hand piece due to it's ability to displace tissue through a laser-massage technique.
Patients generally see results after 3 to 5 treatments. Your doctor will develop a treatment plan that is optimal for your condition.
Source: http://www.litecure.com/medical/for-patients/what-to-expect/